How to Get the Farmhouse Look
The farmhouse design trend that's emerged over the past few years is just so comfortable, cozy, and familiar. When you walk into the door of a well-designed farmhouse space, you instantly feel right at home with its inviting warmth. Thanks to the popular HGTV show Fixer Upper, the farmhouse design trend has enjoyed a groundswell of popularity with many major home retailers, furniture manufacturers, and leading flooring manufacturers creating beautiful and accessible new products to help homeowners achieve a farmhouse décor vision.
Are you looking to bring the farmhouse vibe into your home? Here at Webb Carpet Company, we've helped homeowners across the area select gorgeous farmhouse-inspired flooring choices. Now, it's your turn. We've compiled some helpful tips so that you can bring the farmhouse look into your own space.
Consider Color, Layer, and Texture
The farmhouse style originated in the French countryside. Just envision walking into a cottage with a crackling fire and the scent of bread baking. The color pallet is neutral but warm, with varying tones of taupe, beige, cream, ivory, brown, and gray with accents of blues or black. It's all about layers and textures on top of this soothing color pallet that brings the farmhouse look together. The kitchen is the heart of the farmhouse and farmhouse tables are typically large enough for the whole family, with distressed detailing and character knots throughout the grain. Chairs don't have to match, as long as they tell the story of the space. For the living room, opt for an oversized linen couch and add simple striped throw pillows along with cozy blankets for texture.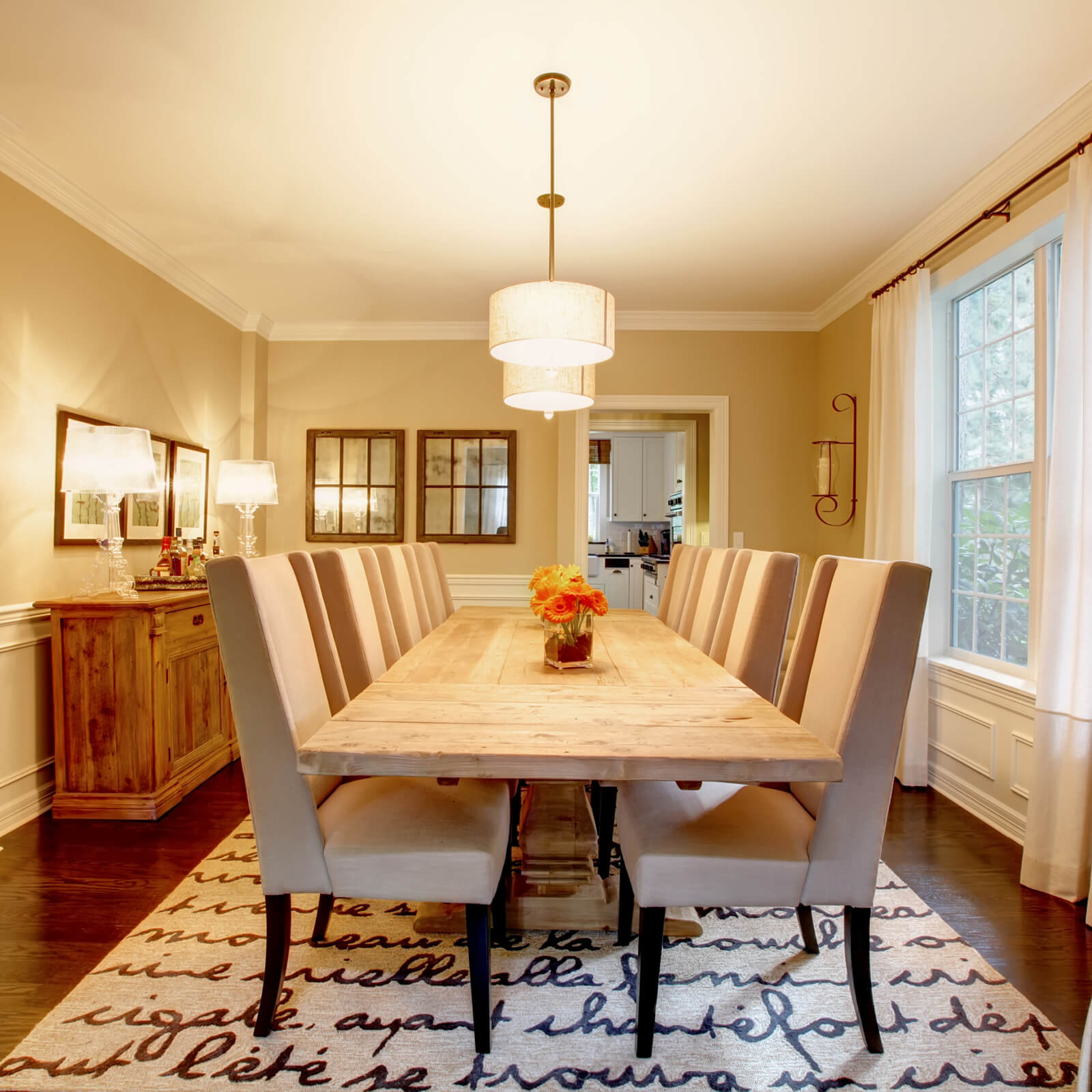 Find the Perfect Farmhouse Flooring
Out of all décor trends, the farmhouse look can be best achieved with hardwood flooring from Webb Carpet Company that embodies the character, color pallet, and texture needed for the style. Consider stunning white oak with wire-brushed texturing. For a more traditional look, we love slightly distressed planks with multiple hues for truly natural flair. To add the needed layers and texture for both warmth and comfort as well as design, don't forget to find a minimalistic area rug from our '.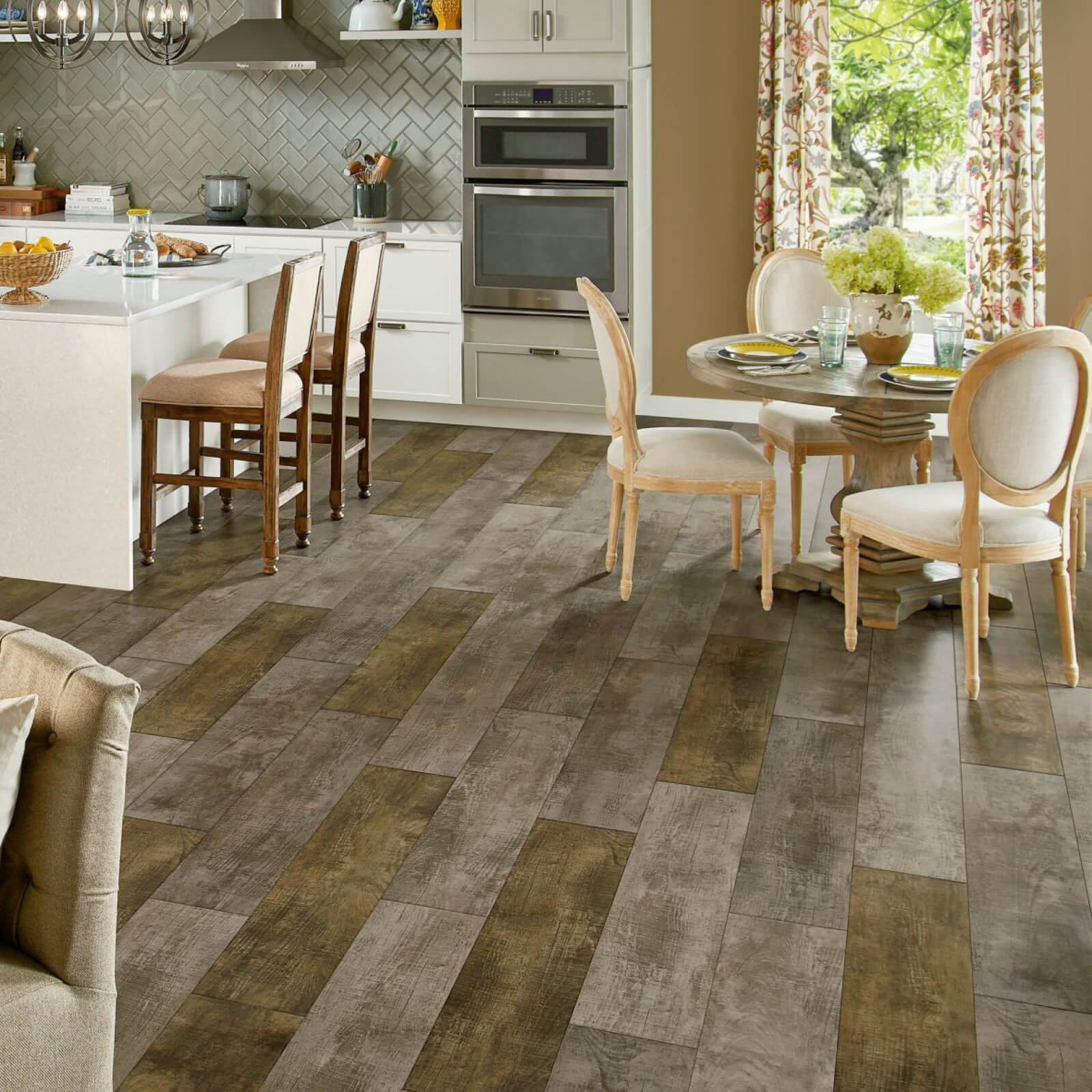 Combine Old and New
To achieve the farmhouse look, don't be afraid to repurpose furniture. Distressed detailing and old-world charm bring the farmhouse look to life, so you should embrace imperfections and antique qualities. Walk to your local antique store, flea market, or other favorite vintage spots to invest in a few key character pieces. Annie Sloan Chalk Paint is a great material to use to repaint worn furniture. We love Svenska Blue and Graphite.
Accessorize in Style
Accessories bring the farmhouse look together, and there are so many out there to choose from! We love seagrass or wicker storage baskets to hold anything from children's toys to magazines, and wire baskets are perfect for newspapers and mail. Etsy is also a great resource for wooden signs, floating shelves, mason jars, and more. And no farmhouse is complete with a signature dough bowl on the table, filled with seasonal touches like pumpkins or decorative evergreen accents.
Feeling inspired? We'd love to help you get the farmhouse look in your home with the perfect farmhouse-inspired floors. Contact us to schedule an appointment or ask for more information, or visit us in Fayetteville, NC to get started!